6ft snooker tables are perfect for children who are looking to learn the basics of snooker, or if you are looking to play snooker but have a limited amount of space. Here are our top three picks for 6ft snooker tables.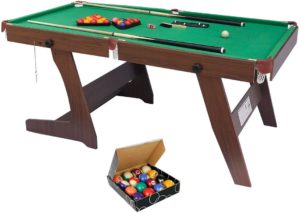 Amazon's current best-selling 6ft snooker table, priced at a reasonable £251.99, with high rated reviews stating 'great quality and price', 'fantastic value for money' and 'great sturdy product'.
HLC's table is a simple design with a fine engineered wood frame designed to last.
The table also comes with a complete snooker game table set including: snooker, billiards and pool balls, two cues and chalk.
Buy a HLC Folding Snooker Table now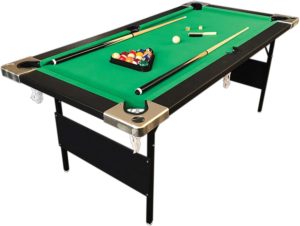 If you're looking for something more premium, then look no further than the ALADIN snooker table.
With a sleek black and metal design over the pockets, this table is made to be extremely durable and elegant.
For ease of storage, the table can be folded away once you are finished with your game of snooker.
The table features a pair of cues, billiard balls, chalk and a table brush.
Buy an ALADIN Foldable Snooker Table now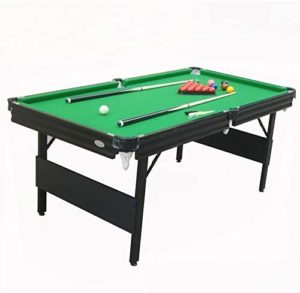 The Gamesson snooker table is the highest rated 6ft snooker table on Amazon with 100% 5 star reviews.
With a clean black engineered wood design supported by a steel frame, this table is a perfect fit for any room.
The table comes with two 122cm cues and chalk, a set of 2″ snooker balls, cloth brush and a triangle rack.
Buy a Gamesson Crucible Folding Snooker Table now
Don't forget to take care of your table with a cover. Take a look at our best picks for 6ft snooker table covers here.

Snooker Jim
Gone from a 6ft table in my dad's garage as a kid to a 9ft table at the office, with the full-size snooker club visits in between. Hoping one day to get the playing technique right.