We've had a look at some snooker cues budget options for under £50, so now let's review some mid-range options under £100.
A stunning contemporary cue, a mini butt, and a sleek black case. There's not much to argue about here. If you want to look the part when you get on the table, this cue will do you proud. Even when you run out of position, the rapid release brass joints make it easy to unlock the cue and add an extension.
"Total 100% impressed with my purchase, I received the cue on time and exactly as advertised. I took it with me last night to use for the first time, it did me proud, excellent balance, tip size was perfect, a totally beautiful cue, I would totally recommend this seller, and I will be looking at the other products they sell…" – Amazon review
AONETIGER 3/4 Jointed Snooker Billiard Pool Cue Handmade Ash Shaft 3 Piece Tips 9.7mm with Extension Accessories Hard Case/Bag to Choose
√This great value, modern looking cue, features a smooth ash shaft and is ideal for both snooker and pool.Quality North American matching ash grain shaft.All black ebonised butt.
Red 9.7mm Tip with brass ferrule - Selected From the Finest Leathers.
3 piece ,3/4 jointed cue,cue length measures approx 145cm.(Shaft length measures approx 110cm,Butt length measures approx 35 cm)Mini Butt extension length approx 10cm.Cue warp 28.5mm.Cue weights available approx 19oz.
Rapid release brass joints throughout(Precision machined brass joint) - lock and unlock extensions in seconds.
Note:There are four options and the accessories are different.See the second picture for details.
——-
For the price, we're not sure there's a better cue on the market than this entry-level CUESOUL. If you or someone you know are looking to get into snooker, this is the ideal entry point. You can't go wrong.
"It is a smooth cue, the weight is lovely and it feels like you can control the power really well. It really is the nicest cue I have used up to date." – Amazon review
——-
You won't go unnoticed with this BCE cue, that's for sure. The striking purple flashes will generate plenty of admiring glances. But it doesn't just look great, it plays superbly as well.
"This Cue is Gorgeous. The Wood is Un-lacquered & so smooth through the hand it feels like Silk. The decor is Beautiful and such a high quality. I bought it for my wife & she loves it… I would highly recommend this cue & case. It feels nicer than my £200 cue." – Amazon review
BCE CREAM & PURPLE 2 Piece Ash Snooker Pool Cue BSP-2
This stylish BCE cream and purple 2 piece snooker and pool cue
Cream soild butt; Stylish purple and cream design; Manufactured to a high standards by BCE
Spiral brass centre jointed cue - suitable forboth snooker and pool - fits all standard 2 piece cases
Cue has a 9.5mm leather stick on tip with a brassferrule; Cue comes with a rubber butt end cue protector; BCE logo badge on the butt of the cue.
If required, you can request either aM (17-18oz)or H (19-20oz)weight cue and we'll do our best to supply it.
——-
Choose from 18oz or 19oz and discover why this cue has earned rave reviews by players all over the world. Traditional in its appearance, it features an ash shaft and an ebony butt. An optional telescopic extension is also available as part of the package.
"This snooker cue from power glide is truly amazing and beautiful made. Cue looks and feels very professional. Always knew power glide made very good snooker products but this cue is really a work of art." – Amazon review
PowerGlide Paramount 3/4 Jointed Snooker Cue, 17oz, Brown
FOR THE IMPROVED PLAYER: This great value, modern looking cue, features an Ash shaft and Ebony butt and is ideal for both snooker and pool
THE CUE: 3/4 jointed cue North American Grade A Ash enhanced grain shaft. African Ebony butt with Olivewood and Kingswood front splices The cue measures approximately 145cm (shaft length 108cm excluding the protruding male joint, butt length measures approximately 37cm). Cue weights available 18oz and 19oz
THE TIP: 9.5mm tip with brass ferrule - medium/hard leather
THE JOINT: Quick release brass joint Butt end joint for additional cue extension.
NOTE: Cue extensions sold separately
——-
Peradon Cannon Sabra ¾ Jointed Snooker Cue
This stylish cue offers superb value for money. The 57″ ¾ cue has a tip of 9.5 to 10mm, and is a sports grade ash. It has the ideal weight and balance and features a solid brass ferrule and a 9.5 to 10mm Blue Chrome Leather tip. Definitely value for its price. 

Snooker Jim
Gone from a 6ft table in my dad's garage as a kid to a 9ft table at the office, with the full-size snooker club visits in between. Hoping one day to get the playing technique right.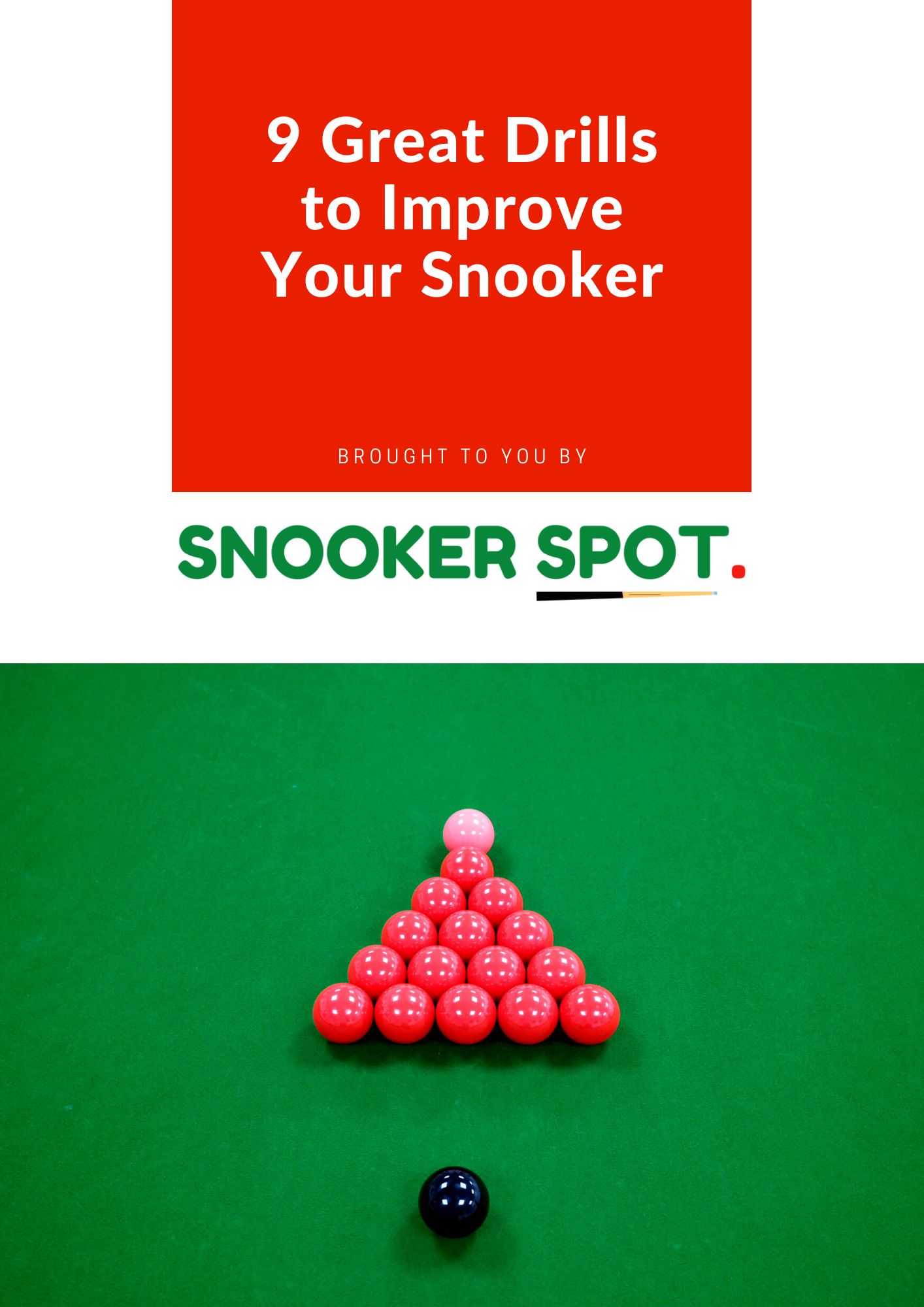 9 Great Drills to Improve Your Snooker
Start perfecting your game today with this FREE drills guide.
We respect your privacy. You can unsubscribe any time.